Udsigterne for årets Perseider var gode. Jorden lå lige midt i kometbanen og der var mulighed for  op til 150 meteorer i timen. Da sværmen så kom, blev forventningerne mere end indfriet! Sværmen peakede omkring 130 meteorer, og maksimum var ganske bredt. I mere end 24 timer fra d. 12-13 august var forholdene for MS ganske simpelt fremragende. Se data fra IMO nedenfor.
EA8TX havde QSO med både S50C og PA3BIY, førstnævnte er formentlig ny region 1 rekord med en ODX på mere end 3300 km. Jeg forsøgte mig selv med EA8TX, en distance på over 3600 km. Han fik et ping fra mig, men mere blev det desværre ikke til.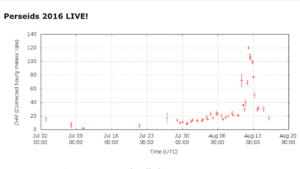 TF3CY og TF4ML fra henholdsvis IP93 of IP24 sørgede for et sandt festfyrværkeri fra nord. Med deres nordlige placering var de formentlig begunstiget af at radianten stort set konstant befandt sig over horisonten. Mine egne QSOer med de to stationer var overstået på få minutter, og i lange perioder kom reflektionerne oppe fra dem som perler på en snor.
Jeg kørte også EA4TX, en distance på omkring 2100 km, i løbet af kun 12 min. Hans udstyr var relativt beskedent en 9 el og 150 w. Mange QSOer kunne overstås på mindre end 3 min, det var en fest 🙂 Af andre danske stationer noterede jeg mig at 6GH og 1LPR var aktive, men der har formentlig været flere endnu. Perseiderne 2016 går ikke i glemmebogen.
Hits: 1005