Mandag d. 28 oktober starter ITUs store WRC konference hvor medlemslandene skal blive enige om fordeling og brug af samtlige radiofrekvenser. Forløbet op til konference har været dramatisk set med radioamatørenes øjne.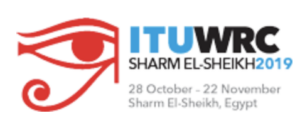 Forslag om at fratage radioamatørene deres eksklusive adgang til 2-meter båndet faldt heldigvis væk, da det blandt andet takket være en kæmpe indsats fra IARUs side lykkedes at få flertal imod dette.
Men der er stadig god grund til at følge med og forsvare radioamatørenes interesser. Nye teknologier som wirelsess power transmission (WPT) kan gøre de lavere HF bånd ubrugelige, hvis ikke der gribes ind med regulering allerede nu.
Derudover er der et stigende pres på både UHF og mikrobølgebåndene. 23 cm er i skudlinjen og der skal arbejdes hårdt for at bevare det også til amatørbrug.
Af dagsordenpunkter på WRC-2019 er der følgende af særlig relevans for radioamatørene.
Agenda Item (AI) 1.1, to allocate spectrum in the 50-54 MHz Region in Region 1 to the amateur service
AI 1.13 to consider new spectrum of International Mobile Telecommunications, which potentially might impact amateur spectrum at around 47 GHz
AI 1.16 which could impact the 5 GHz amateur spectrum
AI 9.1.6 on Wireless Power Transmission, where harmonics of WPT systems can impact the MF/HF radio spectrum
AI 10 – where it is possible that future agenda items at WRC-23 could impact the amateur service, including the 1240-1300 MHz band.
WRC-2019 fortsætter helt til den 22 november. Vi holder øje med signaler og resultater og rapporterer løbende her på vushf.dk.
Hits: 126