Der har gennem tiderne været publiceret tusinder af konstruktioner til VUSHF. De fleste har haft deres tid eller er gået i glemmebogen, men enkelte lever endnu næsten 50 år efter de blev beskrevet første gang. En af disse er K2RIWs stripline PA til 432 MHz med 2x 4cx250 i parallel drift.
Umiddelbart skulle man tro at på 432 MHz er enhver form for paralleldrift en dårlig ide. Rørenes egen kapacitet bliver dobbelt så stor, og der skal ikke ret megen selvinduktion til i tilledninger m.m. førend det bliver umuligt at afstemme ud og indgange. Løsningen er at lave en meget bred kvart- eller halvbølge kreds for derved at minimere kredsens egeninduktion. Det er netop hvad der er gjort i K2RIWs konstruktion fra 1972. Det er et meget robust PA trin med høj virkningsgrad og op til 1 kW output. Trinnet er blevet efterbygget i formentlig tusindvis af eksemplarer og mange er stadig i drift. Det lider noget under termisk drift, da 4cx250 røret er vanskeligt at køle, det afhænger selvfølgelig af størrelsen af den anvendte blæser. Da rørene kører i parallel er der intet behov for at matche disse, man kan sågar pille det ene rør ud. Læs eller genlæs den originale artikel nedenfor, og se også DL7AFBs modifikation hvor han erstatter 4cx250 med det russiske GS36b, hvis sokkel er identisk med 4cx250.
432amp

DL7AFB beskriver en modifikation hvor 4cx250 udskiftes med GS36b. Det er en relativ simpel ændring, som giver 30-40% mere output og væsentlig bedre køling.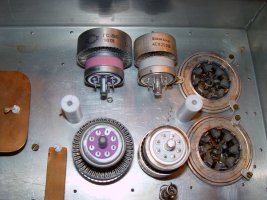 In February 2007 the K2RIW-Amplifier has got some new modern tubes. The old 4CX250b's were replaced by a pair of Svetlana's GS-36b (4CX400). Just a few changes were necessary for that upgrade. Most of the datasheet parameters are identical, e.g. anode-, and screen voltages, as well as socket type and pin-out. However, the heater (filament) has much bigger power consumption and draws 3.2A at 6,3V instead of 2.6A at 5,8V. In addition to that the negative grid voltage must be reduced from -45V to -34V for Class AB operation.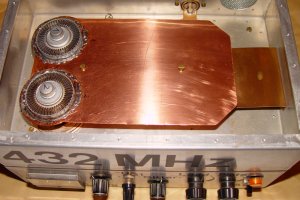 More over GS-36b's anode radiator has a significant larger diameter (51mm instead of 41mm), as well as higher output capacitance. To cope with that  the plate line was rebuild from solid copper. With respect to the increased anode capacitance the line length was shortened by about 8mm (1/3″) and measures now 127mm x 220mm. Therefore the flappers as well as the complete input matching network can remain unchanged. One can use conical chimneys made of PTFE-foil, to keep the original top cover unchanged, too.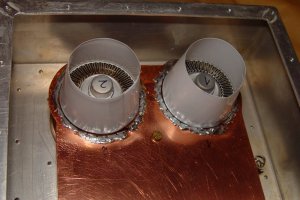 Initial tuning was quite easy. Before high voltages were applied both tubes were pre-conditioned at nominal filament current for at least 32 hours under full ventilation. Then heater current was reduced by 5% to prevent rapid aging. Afterwards tuning was started at 10dB reduced input drive level. The plate capacitance was needed to increase reasonably while load capacitance showed minor effect. In addition input tuning needed significant readjustment. Then input power was increased continuously while checking permanently all currents as well as exhausted air temperature until maximum input power was applied. At least nearly 2dB more output power was achieved  and the amplifier showed to be very stable, no retuning due to drift were necessary any more, as known from the old 4CX250's. At 17W input level the amplifier delivered about 875W RF output power. Therefore the anode efficiency was about 57% at 1850V and 0,85A anode supply.  Finally a maximum output power of 1,2 kW was achieved.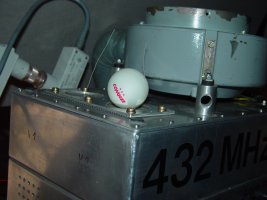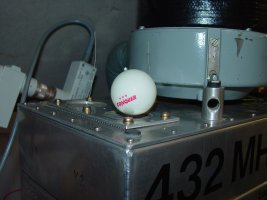 A big advantage is the considerably increase of airflow making the PA much more stable. Here you see a simple test using a table tennis ball within the exhausted airstream. On the left photograph the PA was equipped with 4CX250's where the ball has been laying lazy on the exhauster grill, while in comparison to GS-36b the ball hovers on the airstream, as seen on the right.
Hits: 745