Om formiddagen kunne man nyde regnen, i hvertfald hernede i det sønderjydske, det silede ned en stor del af formidagen.
Men senere kunne man så få glæde af den regn der faldt ca. 400km syd herfra. Den høje temperatur gav gode regnscatter muligheder.
Her hvad det blev til for mig, alt kørt med en 48cm parabol og 16W
QSO worked by OZ7Z on 10 GHz
Type of propagation: All Mode: All mode
From 22/06/2017 to 22/06/2017 Distance over: 0 Km.

---
| | | | | | | | | | |
| --- | --- | --- | --- | --- | --- | --- | --- | --- | --- |
| DATE | TIME | CALLSIGN | LOCATOR | TX | RX | MODE | PRO. | REMARKS | QRB |
| 22/06/2017 | 12:33 | DL6NCI | JO5ØVI | 59s | 59s | SSB | RS | | 527 |
| 22/06/2017 | 12:33 | DM2EUN | JO6ØIV | 57s | 57s | CW | RS | | 490 |
| 22/06/2017 | 13:53 | DL3IAE | JN49DG | 58s | 57s | CW | RS | | 638 |
| 22/06/2017 | 13:59 | DL7QY | JN59BD | 59s | 59s | CW | RS | | 644 |
| 22/06/2017 | 14:13 | OK1JKT | JO6ØRN | 59s | 59s | CW | RS | | 545 |
| 22/06/2017 | 14:17 | DL6NAA | JO5ØVF | 59s | 59s | CW | RS | | 540 |
| 22/06/2017 | 14:34 | DB6NT | JO5ØTI | 59s | 59s | SSB | RS | | 524 |
| 22/06/2017 | 15:04 | OK2DL | JN79WL | 53s | 55s | CW | RS | | 734 |
| 22/06/2017 | 17:43 | DL3IAS | JN49EJ | 55s | 55s | CW | RS | | 624 |
| 22/06/2017 | 18:10 | DG1BHA | JO73DB | 59s | 59s | SSB | RS | | 360 |
Number of QSO listed: 10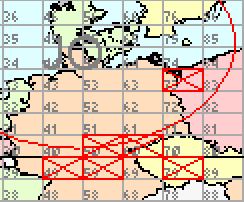 Hits: 770